The Warrior and Saturn Pads are unique in their very own way. Here's why:
Rucksack System
When carrying a crash pad to your desired Crag, you'd wish for your experience to be easy and less of a hassle. The Warrior and Saturn Pad provide you with just that. They're enhanced with a padded rucksack system and a chest and waist harness; they feel so lightweight on your back, that you don't even notice they're there.
Durable ripstop fabric
You can drag it around the crag or put it on rocks as the pad is tough and will stand up to the demands of being in an outdoor environment. 
Anti-Slip base
The pads have two rubber panels to prevent the pad from slipping when you fall. Also, if you want to stack two pads on top of each other, the rubber helps by keeping them together. 
 Anti-slip rubber base, which will help keep the pad still
Both the Warrior and Saturn Pad, have built in back pack systems with a supported harness included.
Ultra hardwearing nylon fabric that is durable and strong for the pad.
Taco-fold System
They are built with the taco-style fold, which makes it a lot easier to carry around. But you don't need to worry about it losing it's shape, as it will return to it's usual form.
High quality foam
The pads are made from highest quality closed-cell and open-cell foams. It is composed of two layers, a think layer of harder foam and a thick layer of softer foam. They both work perfectly together to create a supportive landing. Because of the high quality of foam, this means the pads have a longer life span and can take plenty of falls.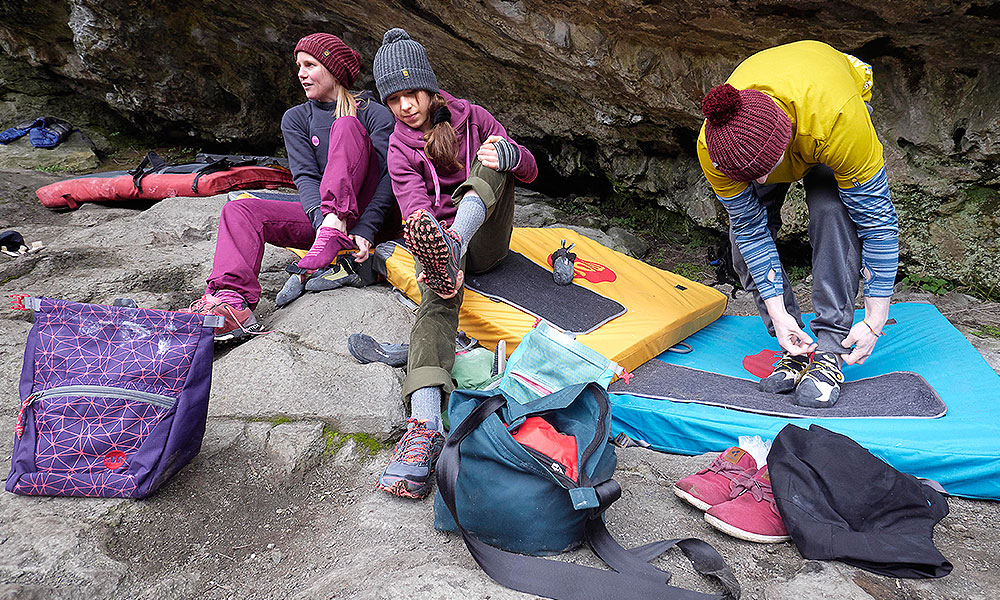 Do you own a Moon bouldering bag? Well, whilst the crash pad is folded, you can put the bag strap around the pad and tighten it up. This means that your bag will be held securely by the pad and both your hands will be free. Walking to the Crag will be easier than ever before! 
The Warrior Pad will fit most average cars, which is why they're best sellers, (the dimensions being, 130 x 100 x 11cm) and you won't have to worry about your car getting dirty or your carpets, as the base folds in. Not forgetting the all-in-one velcro piece. It covers the backpack system so that you have a clear surface to land on and it provides you with a shoe mat to scrub your mucky feet. Who would possibly want to climb with dirty, slippery climbing shoes?
So, you get yourself a Moon Crash Pad, after all, you deserve one.
Shop the Saturn Pad and Warrior Pad
Shop the Pluto Pad
However, for those who prefer or want a smaller pad, here is the Pluto Crash Pad. Small yet mighty. It's great for one of them quick session days, and perfect for filling in little gaps. It also folds nicely inbetween the Saturn pad, so you have more than one pad that day.