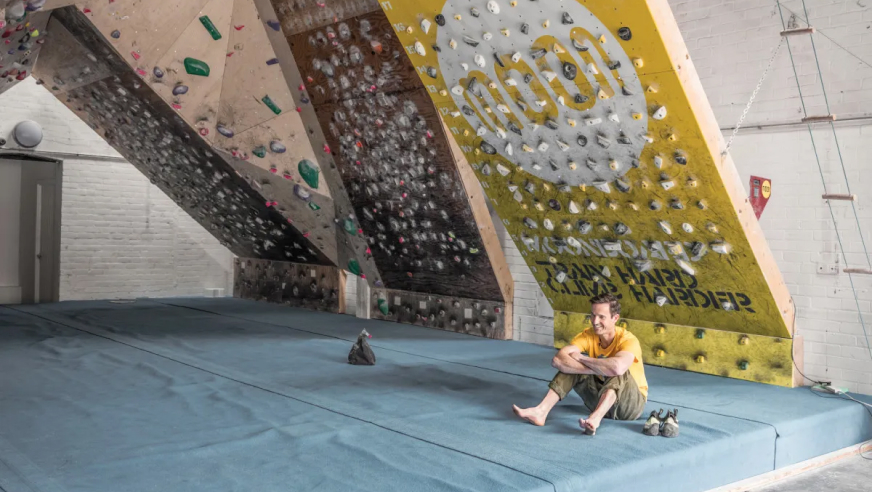 Refer to the MoonBoard App for personalising your profile, updating your problems and connecting to the global MoonBoard family.
Taking care of your LEDs
Make sure your LEDs are not taped down too tightly, otherwise you may damage them. It's also important that the LEDs are flush with the front of the climbing wall where they cannot be stepped on, hit or damaged in any other way, so make sure that they are not being pushed out. When working on the back of the wall, take care that they are not stepped on.
We don't recommend that more than two LEDs are replaced in the strings as this will compromise the functionality of the kit by causing too much resistance in the system. For this reason, we don't sell spares.
Cleaning your holds
We wouldn't expect your holds to need cleaning. However, if you do need to clean them, do not soak them in water for an extended length of time. For your wood holds we would recommend alcohol, or a brush with mild soapy water (not immersion in water) and quick, thorough drying. For the PU School Holds, we recommend jet-washing them if you have one, or just washing them by hand in warm soapy water.
Help and Advice
MoonBoard Rules
All problems start two handed. If there is only one start hold you must start with matched hands.
All problems start with both hands on the designated start hold or holds and finish on the designated finish hold or holds.
The rules for which footholds are allowed are indicated in the problem details in the MoonBoard App.Depending on which hold setup you have chosen there are up to 5 possible options. 1) Feet follow hands. 2) Feet follow hands + Screw-on footholds. 3) Screw-ons only 4) Footless + kick-board footholds 5) Footless (no kick board).
All kickboard footholds are allowed.
All kick-board footholds are place slopey side facing up.
All start holds must be on row 6 or lower.
All problems finish on the top row of the MoonBoard either matched if there is only one finish hold or on separate holds if there are two finish holds. You must hold the finishing hold or holds in control for 2 seconds.
You are permitted to use any part of the numbered hold.
Matching and heel hooking is permitted.
The grading system is either Font or V grades. You can change this in the MoonBoard App settings.
frequently asked questions
What is the difference between a set of holds and a setup?
A hold set is a pack of around 50 holds of the same type and colour. We offer a range of different hold sets, some made of wood, and some made of polyurethane (PU). A number of hold sets together, and placed on your MoonBoard to the exact specification, is known as a setup.
A setup is a collection of hold sets, set at a specified location and orientation on the MoonBoard. There are currently four setups, the 2016, the 2017, the 2019 and the 2020. However, the 2017 and 2019 setups can be installed on a choice of either the 25´ or the more challenging 40´ board angle, so in practice there are six MoonBoard Setups. Select and buy the setup that you want for your MoonBoard. Once installed, select your setup on your app and browse through 1000s of problems, including the benchmarks for your setup.
MoonBoard Benchmark problems have been curated by a small group of MoonBoard moderators. They are generally considered to be high quality problems and a good "benchmark" for the grade. Additionally, they are used to establish a users MoonBoard ranking. For a comprehensive understanding of the ranking process, please refer to the ranking section available in the MoonBoard App.
Do I have to buy all the setups?
The Freestanding MoonBoard comes with all the setups. If you choose to buy one of our DIY Kits instead, then choose just one set up. A DIY Kit is available for each setup. You will make your own frame, so you can choose which angle your have for your 2017 or 2019 setup. (The 2016 and 2020 setup are both 40° only.)
Which setup should I get?
Selecting a set-up for your MoonBoard is a matter of personal preference. Each set up has been designed to make you stronger, but all users have different opinions as to which is their favourite. We highly recommend downloading the MoonBoard app and experimenting with the different set-ups to get a firsthand experience of their unique characteristics.
Check the hold sets you need for the setup you want, you may need to buy different hold sets if you want to change setup. Some setups share hold sets, although the same holds are in a different location in a different setup. For example, the 2016 setup features Original, School Set A and School Set B holds. The 2019 setup features those same holds (in a different location) plus the Wood Sets A, B and C. So you could start with the 2016 setup and add the wood holds at a later stage to give you the 2019 setup.
Can I buy the holds without the panels?
If you would like to buy the frame on its own, please contact us at
[email protected]
for more information.
Can I buy the frame on its own?
If you would like to buy the frame on its own, please contact us at
[email protected]
for more information.
Can I reduce my panel size to fit my space?
A MoonBoard is a standardised training board built to exact specifications. If you change these specifications in any way it will no longer be a MoonBoard. We offer the MoonBoard in 2 sizes, the Mini MoonBoard and the standard MoonBoard. You should chose the MoonBoard which fits your space.
Can I change the angle of my MoonBoard?
The MoonBoard DIY Kits do not contain the frame. You will make the frame yourself, so how easily adjustable your frame is will depend on your DIY skills! In practice, we find that most people choose and keep just one angle. If you buy our Freestanding MoonBoard, you can adjust the angle by…
What grades are the problems?
Grades range from 5+/V2 to 8b+/V14 depending on which set up you choose. Download the app, select the various different setups and have a look at the range of problems and grades to see what's right for you.
Where can I go for ongoing technical support for my MoonBoard?
Can I have my MoonBoard outside?
We don't recommend having your MoonBoard outside although we know that many people do. If you choose to have yours outside, at the very least we would advise you provide some kind of covering for it. The LED system components must be protected from moisture and wind damage, including the control box with the on/off switch. Although we use a high-quality birch plywood for our wood holds, over time and prolonged exposure to rain they could start to delaminate and get damaged. We currently have a mix of stainless steel and BZP nuts and bolts, which, although both weather-proof, may react with each other in extreme weather conditions.
Why should I choose a MoonBoard?
The MoonBoard is the original and most popular training board in the world and one of the most effective strength training tools for climbers.